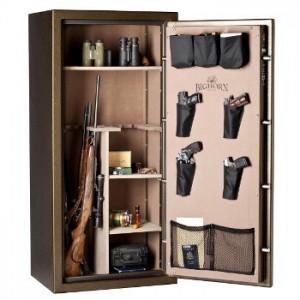 Being a lover of gadgets, you know how important it is to buy something that you can put it in to make sure that it's always safe. When your hobby is target shooting, it's only natural to accumulate a gun collection that needs to be stored for safety. Small gun safes are good for storing handguns so your children won't be able to gain access to them. It is also good for anti-theft purposes. You need a gun safe that cannot be opened by heavy tools and also fire resistant. If you have a large safe, it can weigh up to 1000 lbs and you can't carry that out in case of fire. If you have a fire resistant couch, you won't have to worry about your guns in case of fire.
It may sound expensive to buy a good gun safe because of the features that it provides. However, there are gun safes that are under $1000 and will surely fit your budget and take care of your guns as well.
Introducing The SentrySafe GM2459E
This is considered as the best gun safe for under $1000. This is a good deal because it is both fireproof and cannot be damaged by heavy tools. This safe was made to protect your firearms from everything that canharm it and it comes in an affordable price. This safe is 59 inches high and solidly built to resist any kinds of attacks.
This gun safe has an attractive black powder finish. The whole body is made of hardened steel and the door is made to withstand any type of force like when it's being pried open. The safe's door is secured with three live bolts and three deadbolts that give it a lot of security if you try to lock it. There are pre-drilled holes that are used for mounting the GM2459E to your home—mounting hardware is also included in the package. If you look at the exterior of this safe, you will notice that it is made with a nice brass and chrome material. There is also a three spoke lever that is traditional when it comes to opening safes that makes this a very classic looking gun safe.
This gun safe is not only resistant to any kind of intrusion; it is also designed to last under 1400 degrees of heat for at least half an hour. You probably think that all you have to protect your guns from are thieves but most people lose their collection because of a home fire.
This safe has a lock that has an electronic combination that uses a 12 button keypad to program your 5 digit passcode. However, the company default code cannot be deleted from the system so you still cannot tell anyone about it. The lock needs four AA batteries to operate and you also get keys to open the safe if the lock dies or if you forget the code. After three failed attempts to open this safe, it will activate its self lock feature.